Oh hump day why couldn't you have come sooner...I still can't believe it's ONLY Wednesday. I am leaving on a jet plane for Seattle on Saturday and then proceeding onto a cruise ship and set sail...or I guess I should say propellers for Alaska!! I am in a bit of a tough spot though. I looked up the weather and it's supposed to be raining the entire week! Booo, I guess it could be worse but I was really looking forward to some nice cooler weather. Not wet…which means NO shorts or tanks…laaaame.
Does any one have any suggestions for some outfits!? It should be in the high 50's and wet…ugh. But I am excited to take a well needed vacation!!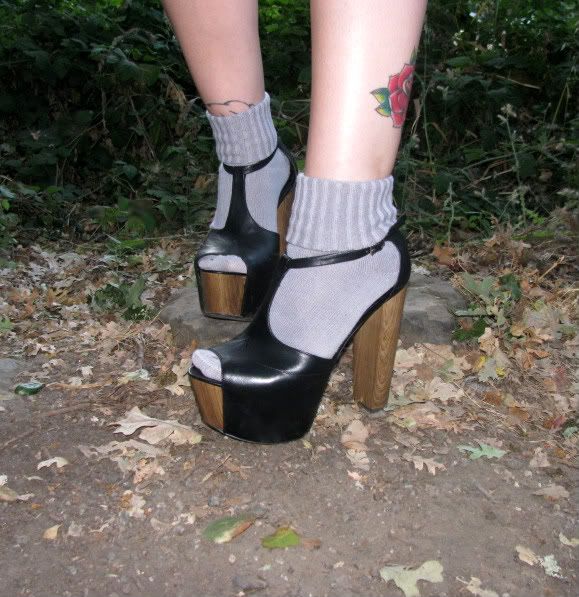 I am wearing:
Sunnies-Ray ban
Blouse- Express button up
Belt-Vintage Furrrrster
Shorts-DIY Mom jean shorts
Shoes- NEW :) Jessica Simpson
So I am so ecstatic about receiving my gorgeous Jessica Simpson Dany platty's yesterday! As I was saying on my lookbook and chictopia posts these babies caused quite the ruckus last night @ my Mother's house. Lets just say she didn't likey, she thinks shorts and high heels looks stripper/hooker-ish; which I completely DON'T agree with. So as I am trying to explain to her the style and the fact that I am 23 and don't give a fuck what ANY one thinks…duh hello I have a shit ton of tattoo's…she got pretty upset, so I left. We have since talked it out and she realizes that when she was MY age she wore the same shit if not worse. So all is well again, but she still doesn't like my sky high UH mazing platty's...fuck if I should care. I LOVE LOVE LOVE them and so does my BF!! He thinks they are Moy caliente!!!
xo
Please excuse the bruises..them and me go hand and hand like banana's and Nutella