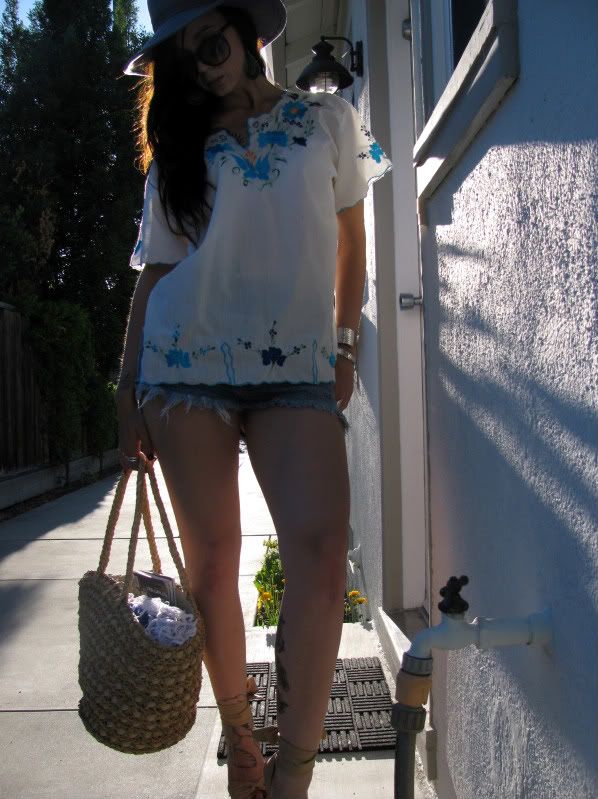 I am wearing:
Hat-Vintage 1940's Wide brim hat
Shirt- Vintage 1960's Embroidred Linen shirt
Shorts- DIY cut-off's (They are A&F, blame it on me being 16...Yes I have had them that long)
Shoes- Thrifted Fornanina leather ankle wrap clogs
Bag- Vintage woven tote
In the 2nd to last picture I am wearing American Appearal Highwaisted swim breifs instead of the shorts...
Wow I have been totally lagging on any outfit updates, but have been very busy thrifting and finding gem's for Dutch Oven Vintage's official kick off. I am hoping I will get all of the pieces up this week, I know, I know I am totally a lagger haha. Anyways I am SUPER excited for the 4th of July next weekend! YAY three day weekend, beers, fireworks and my baby, what could be better? anyone have any exciting plans? I will just be at the beach with my lil Fam Bam hahah.
Random thought: I really need to start my Halloween costume... anyone know what they are going to dress up as yet? I would tell you guys what I am going to be but then I would have to kill you...muahahahah jk...or am I? :)
Here is a lovely shirt and hat that will SOON be up for grabs @ Dutch Oven Vintage. This 1960's embroidered super thin linen shirt is so comphy and a perfect find for the summer. Wear it with jean cut off shorts, clogs, and a wide brim hat for that perfect beach look, or a pair of jeans and pumps for a relaxed night with the girls. The hat is a vintage 1940's wide brim hat. It is in perfect condition with a ribon detail aorund the crown.
*Please excuse the leg bruises, you will see those alot. I bruise very easily...always have.