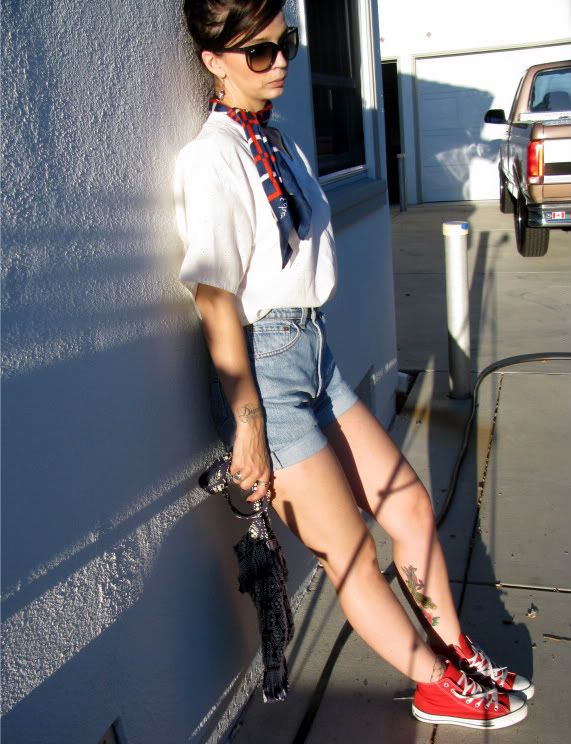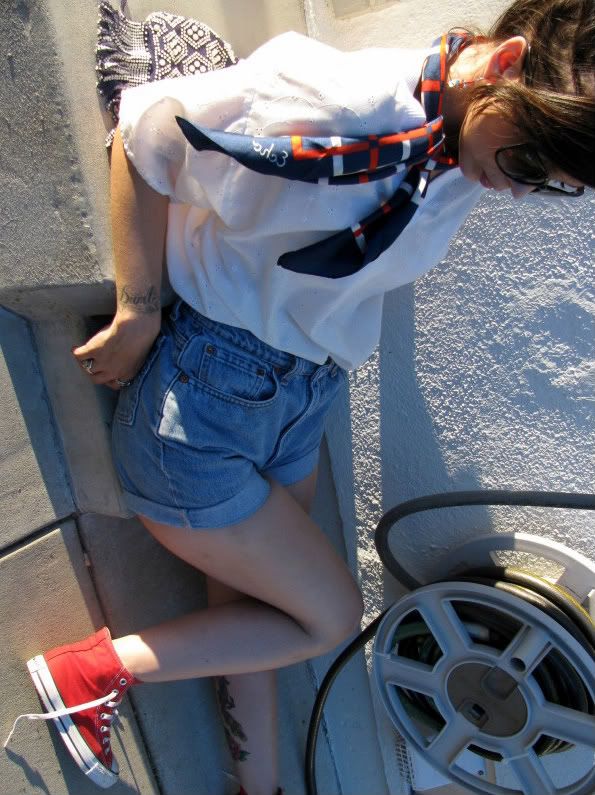 So let me first explain the title, I LOVE the blues, and the title of this post is a Jimmy Burns song. It is pretty much about a Woman who LOVES to drink whiskey and get loco..hmmm maybe I was a friend of Jimmy's in a past life? If you haven't heard it, give it a hear, awesome song!!
Ok so for my outfit I saw that scarf in a thrift store and just instantly grabbed it. I didn't even hesitate or look so see how big it was, I saw, I grabbed, I concored! And maybe it's because the 4th is in 4 FREAKIN DAYS!!!! Woooo I can't wait to share all my pictures form the up comming weekends festivities! back to the clothes, the scarf like I said is thrifted and I bought specifically for the Fourth of July so you will see this scarf again on my post for the holiday, justa warning. The shirt is an oversized vintage eyelet v neck shirt. It is super light and airy. Both of these items will soon be up for grabs on Dutch Oven Vintage. I must apologize for the lack of a hair style, when I was taking these pictures it was so fucking hot out and I was sweating like pig balls so I gave up and put it up in a bun to relieve my neck of a blanket of heat. it helped....
OH and I recieved a lil gift from one of my Besties Catie(you will see me refer to her as My ginger snap, she a red head and HATES being called a ginger) that lives down south in Sunny SD. She works at an UH-mazing hat company called Brixton LTD, I suggest you take a peek @ their website and blog. It is everything surf, vintage, photography, skateboarding, and fashion...Oh so very "So-cal" Bahahah anywase she sent me their Fall 2010 and SS11 catalog....WOW I better start saving $ stat! I told her I might have to start making payments NOW just to ensure I can get everything I want. Keep an eye out for their Fall line, I believe it comes out VERY soon, maybe a couple of months... Their girls line this fall is to die for and they have deff stepped it up! OH and the HATS, OH THOSE HATS...Check them out for yourself, you HAVE to see!!
Tata XO
WWW.BrixtonLTD.com